Top 5 Leading CRM Software Solutions of 2023
The success of any business depends on a customer relationship. Apart from developing creative marketing strategies, you need to sustain your existing customers by providing them the best customer service.
In today's competitive business world, managing customer relationships is one of the crucial aspects of targeted goals. However, due to lack of time and skills, organisations fail to manage it, which in turn, results in their business growth.
Fortunately, there is a great software solution that can make things better for all types and sizes of businesses. CRM is one of the best software solutions that allow companies to build long-lasting relationships with their prestigious customers without any hassle.
With the constant development of new-age web technologies, customer relationship management or CRM software has fixed its place and become an essential tool for businesses.
Here is the list of 5 leading CRM software solutions in 2023 that will assist you in growing the business by managing your customers.
Let's Get Started!
Top 5 Leading Most Popular CRM Software Solutions
1. Zoho

Believe it or not! Zoho CRM is one of the top-rated CRM software solutions in the world. Since inception, the company supports a worldwide network of more than 250,000 businesses across 180 countries.
The Zoho CRM works with various other third-party applications to let you make the most out of your customer relationship management strategies.
Features of Zoho CRM:
It offers unlimited features that can help grow your business while boosting your customer retention rate. The zoho's Enterprise' plan offers:
Territory management features
Multi-user portals
Custom modules & buttons
You can import data from different social media platforms.
Integrated with other applications
Advanced customization
Offers an AI assistant system, known as Zia
Drawbacks
Despite all the advanced features, there is one drawback in the premium package which can make you think twice before buying the subscription. It comes only with 1GB of storage- which is not at all enough for an organisation.
If you need extra storage space, you need to pay extra per month for each 5GBs you need.
It also doesn't offer free support to let you set up the software. You need to submit a support ticket through email and they will respond to you with 3 days.
Synopsis
In short, Zoho CRM is a good software that comes with great features, third-party integration support, social media support, and other key features. If you are ready to pay extra money for document storage space and initial support facility, then Zoho is an ideal tool for you.
2. EngageBay
From marketing automation to project management, multi-channel marketing to Helpdesk support, EngageBay offers it all — and more. EngageBay's award-winning all-in-one marketing, sales, and customer service software with integrated CRM is perfect for small and medium businesses. In fact, it is being used and loved by over 30,000 businesses globally.
Key Features of EngageBay CRM:
Drag-and-drop landing page builder
Predictive lead scoring
Social Suite
Email broadcasts and sequences
360-degree contact view
Tag management
Live Chat
Ticketing automation
Help Desk
Account-based marketing
Drawback
EngageBay does not offer search marketing. However, this can be done through third-party integrations.
Synopsis
EngageBay is the best all-in-one CRM software for small businesses and startups looking for an affordable yet comprehensive solution. Even its most expensive plan with unlimited contacts and advanced features is priced at just $80.
3. Nutshell
A perfect mix of a robust marketing tool and customer relationship management software, Nutshell is a pretty decent tool that allows you to manage your customers and increase leads in the most organized manner. It comes with advanced features for different plans so that you can automate your sales and improve relationships with your customers.
Key Features
You can sign up for this CRM and enjoy the Pro plan benefits. It offers plenty of features including:
Sales pipeline management
Customization options
Easy to record phone calls
Sales Automation
Funnel and Activity Reports
Email Marketing
Drawback
The key drawback is that it doesn't offer any marketing functionality. However, you can integrate this CRM with third-party applications.
Synopsis
There is no denying the fact that nutshell is one of the best CRM software solutions offering advanced features, robust customer support, and pre-recorded videos to help you set up and install the software with ease.
4. Pipedrive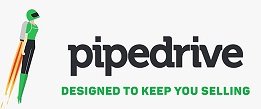 From scheduling calls to email marketing, customer management to lead generation, Pipedrive CRM does everything to help you grow your business.
Key Features
You can opt for their 'Gold' plan that offers a ton of features including:
Email tracking
Workflow automation
Easy-to-use Interface
Product Catalogue Creation
Custom Permission
Reporting of Sales
Sales Funnel, etc
Drawback
It doesn't offer advanced sales management functionality.
Synopsis
In a nutshell, Pipedrive offers a great CRM system that can improve your sales generation and manage your customers.
5. Insightly
Build long-lasting relationships with your customers and grow your business With Insightly's CRM system. From marketing to sales, customer management to third-party integrations, Insightly offers great features that can simplify your company's operations in the long run.
Key Features
You can go for a Professional plan and enjoy:
MailChimp Integration,
Customization options
Dynamic Layouts
Other apps integration
Cross-Browser Compatible.
Drawback:
It is one of the most expensive CRM Software Systems and that's why not ideal for small and medium-sized organizations.
Synopsis
If you have a large business and want to make the most out of your marketing strategies, this is one of the best CRM tools.
Final Verdict
These are 5 leading CRM Software Solutions that can manage your sales, lead revenues, and boost the customer retention rate for the long run. You can choose the system which can best fit your needs and estimated budget.