Free PHP, HTML, CSS, JavaScript editor – Codelobster IDE
Do you want to know more about Codelobster IDE? It is the free editor of web languages, which is a portable and fully-integrated development environment for PHP. It supports JavaScript, CSS, and HTML development. It is available on the software market and plug-ins are also available for WordPress, Joomla, Facebook, Drupal, Codeigniter, and JQuery.
With Codelobster IDE, you can easily edit CSS, PHP, JavaScript, and HTML files. It represents the syntax and shows hints for functions, tags, and their parameters. If the pile of files contains amalgamated content, you can use this editor and achieve desired results.
This portable editor streamlines and simplifies the complicated PHP development process. In simple words, if you add PHP code to your HTML template, the editor correctly shows both PHP functions and HTML tags. The same happens to other codes.
There is also an auto-completion function, which automatically accelerates the work of programmers and alleviates the chances of errors.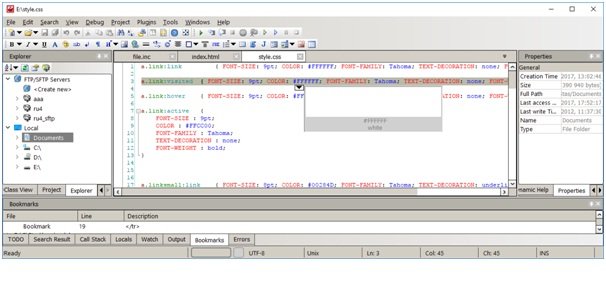 The best part about Codelobster IDE supports all programming languages and uses updated documentation.  You can press the F1 key and get access to a description of any HTML tag, PHP, and JavaScript function.
The in-built PHP debugger lets you enter PHP scripts and move you through the lines of codes. With this, can easily assign checkpoints and see the process of loop works while monitoring the values of variables during the writing of scripts.
You can see the HTML templates in the editor and represents the interesting elements on the page.
Other Key Features and Functions
The Codelobster itself counts parentheses and quotation marks without giving you a hint of stress.
Choosing and collapsing the code of snippets
Bookmarks to support navigation on the edited file.
Easy to edit and manage PHP projects.
Supporting 17 user interface languages, including Russian, French, English, French, etc.
The editor focuses on the different operating systems, including Windows 7, 8 and 10, Mac OS, Fedora, Ubuntu, Linux, and Debian.
If you are a programmer and want advanced features of Codelobster IDE, you can buy its professional version.
The professional version of Codelobster IDE comprises an ample set of plug-ins, including:
Fully-implemented plug-ins for JS libraries, such as AngularJS, Node.js, jQuery, MeteorJs, and BackboneJS.
There will be a large set of extensions that work with PHP frameworks, such as Laravel, CakePHP, Smarty, Twig, and Yi plug-ins.
Plugins for WordPress, Drupal, Magento, and Joomla CMS software. 
You can easily download and install frameworks from the program without disturbing your main tasks. There is no denying that Codelobster IDE is a great editor that works fast and enables you to work with huge PHP projects.
In today's era, most websites are developed using different CMS's and frameworks. For their utmost usage, you need a more advanced professional version of Codelobster.
You can easily download this editor from the official website codelobsteride and make your programming simple and effective.