List of 10 Best HTML Development Companies
If you are a business owner and looking for an expansion, then creating a professional and user-interactive website would be an ideal option for you. This is one of the best ways to make a strong customer base in an existing market. Developing a highly-functional website not only enriches conversions but also increases chances of success rate.
However, developing a fully-fledged HTML website is not an easy thing. You need to learn technical development skills to develop a beautiful and accessible website. To get this job done quickly and easily, you will need to hire a reputed and experienced HTML Development company. With great experience and expertise, such companies can help you create an intriguing and functional website the way you want. They possess a highly-talented team of HTML developers and web designers who work together to provide you with tailor-made results within estimated time and budget.
To make your work easier, we bring you the list of 10 most convincing HTML development companies in 2020 that will help you in creating a beautiful, professional and robust website as per your specific requirements.
So, let's get started with our list: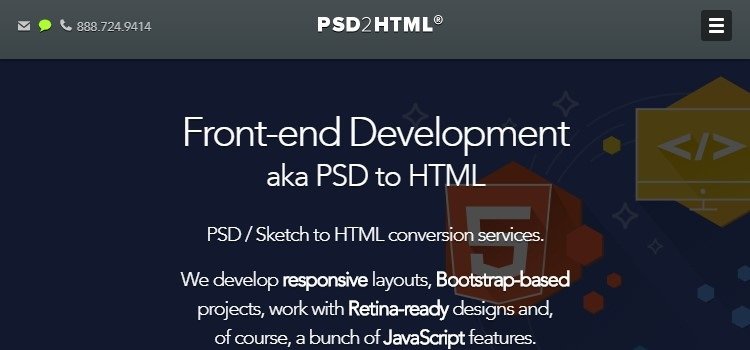 PSD2HTML has been providing outstaff/outsource eCommerce and web development services for the past 15 years. Its varied portfolio includes websites of all types and sizes, starting from small business sites and ending with large enterprise solutions. The agency was the first to offer PSD to HTML conversion service back in 2005.
Since then, it has considerably expanded its list of offerings. These days, PSD2HTML covers a wide range of technologies. In particular, it has unequaled expertise in e-commerce development, building websites based on BigCommerce, Drupal, WordPress, Magento, Shopify, and other systems.
It is also a provider of such services as UI/UX design, email and banner template development, and web design. The company has thousands of successfully completed projects to its credit. This includes Internet stores that bring their owners millions of dollars in revenue.
The company employs more than 450 world-class professionals in web development and design, who have successfully delivered thousands of projects to happy clients. As the world of technologies evolves rapidly, the developers at PSD2HTML realize the importance of learning new approaches, techniques, and technologies in the fields of web and e-commerce development every single day.
PSD2HTML is made up of a number of self-containing teams called clusters. Each of these includes all the necessary professionals (JavaScript programmers, markup developers, and testers) to handle the most complex tasks. The clusters use the so-called parallel development method, which assumes several team members concurrently working on the same project. This enables PSD2HTML to deliver faster than any other company in the industry.
The turnaround time differs based on a number of factors such as these:
How elaborate the design is
How many unique elements it includes
The design file format
Normally, converting one design file to markup takes 8 business hours. To code an extra page within the same project, the developers will spend from 3 to 8 hours subject to the factors listed above.
NMG Technologies provides quality, reliable and highly-interactive HTML and web application development solutions at the most competitive price. With over 8 years of experience, the company has served more than 1000 diverse clients across the globe.
They follow high-standards and best practices to ensure world-class results without any compromise. No matter what type of website you want to develop, the development team at NMG can help you deliver quality service. Their web developers hold great expertise in building HTML websites and web applications that are friendly, interactive and compatible with all types and sizes of screens. You can hire them if you want a top-notch website.
It is one-stop-shop for all your web development needs. From web development to mobile app development, HTML development to WordPress development, they provide everything for everyone.
Their developers follow the holistic approach, proven methodologies, and flexible techniques to ensure your web development project is in safe hands. Matellio incorporates innovative techniques and traditional approaches to create high-scalable HTML websites within an estimated budget.
If you are searching for a trusted and experienced HTML web development company, consider Matellio.
Are you looking for custom web development and HTML development solutions for your new web project? Hire Mobikasa.
Being a full-service development company, you can trust them and hire them because they know the importance of professionally-sophisticated business websites.
As a leading web development company, CSS Chopper has been serving the web development industry for the last 9 years. The company has developed hundreds and thousands of projects across the world with the same dedication and endurance.
You can even hire HTML developers to create beautiful and compatible themes that are W3C compliant and deliver the best quality results.
Pixel Crayons is an Indian-based web development company that specializes in developing HTML websites that are cross-browser compatible and reliable.
The company hires on experienced and dedicated HTML developers and equips high-end web development technologies to provide qualitative web projects.
Sparx IT Solutions is known for innovative, proven and holistic approaches and top-notch web development processes. The company has established a unique presence across the world to develop high-end, customized and interactive HTML websites at the most reasonable price.  Call them anytime if you are interested in their HTML web development service.
MarkupBox is a front-end development company providing HTML/HTML5, Javascript and WordPress development services at the most competitive price. The development team at MarkupBox loves what they do and provide you high-quality results within the estimated time.
Over the past 10 years, they have completed more than 8000 projects and served 6000+ customers across the globe. You can also become a proud customer!
From PSD to HTML/HTML5 conversion, HTML to WordPress Conversion or core HTML web development, PSD2HTML provides a range of web development services at the most convenient price.
They are known for building user-friendly, interactive and beautiful HTML sites with objectives to meet your specific requirements on time.
Do you want a tailor-made website to promote your business? Do you have a team of HTML developers and web designers for such quality of a website? If no then hire ValueCoders. It is one of the reputed companies that use only cutting-edge web technologies such as HTML5 and CSS2 to create highly-impressive and beautiful websites at the best price.
Conclusion
These are the 10 most reputed HTML Development companies that you can prefer if you want to start your next web development project.