Top 10 ReactJS Development Companies – Hire React Developers
React.Js is a powerful open-source JavaScript library used for crafting user interfaces for single-page applications. The demand for such apps has been gaining a lot of popularity among new-age entrepreneurs. They want single-page apps that are interactive, scalable, and give a great mobile experience to the users.
That's one of the reasons why top-rated software development companies are hiring trained react developers. The professionals use this Javascript library to handle the view layer for mobile as well as web applications. The tool allows them to develop reusable UI components to make interactive applications for web and mobile platforms.
If you are searching for the best company that can offer you quality React Development solutions at the best price, have a look at the following list. We are sharing 10 top React development companies for your next project.
Alliance Tek is a renowned React JS development company. They deliver end-to-end solutions using the latest methods, cutting-edge JS development tools, and new technology stacks.
Reasons to Choose AllianceTek:
More than 10 years of experience
A team of 200+ trained and professional developers
They have expertise in building user interactives for all types and sizes of single-page applications.
Good repeat customers rate
Key Clients: Have a look at the key clients of Alliance Tek Royal Bank of Canada, GENPACT, Johnson & Johnson, Owl Rock Capital& many more.
It is one of the most popular React JS development Companies in California Since 2009. Openxcell has been providing quality and user-interactive applications for all types of businesses.
Reasons to Choose Openxcell:
They have worked for numerous Industries
Associated with international associations like IGDA & NASSCOM
Leverage the latest strategies, tools, techniques, and methodology to deliver solutions& generate higher revenues for clients.
A team of react.js developers who build UI-based single-page applications.
Key Clients: They have some world-renowned clients, such as, Byjus, Kotak Mahindra Bank, CIN7, Alorica & many more.
Zealous System is one of the most trusted React JS Development Companies. They believe in offering high-quality digital products in the form of web and mobile apps using react javascript library.
Reason to choose Zealous System:
Quality-driven digital products
A highly-trained team of react developers
Built reliable and scalable single-page applications for global clients
The friendly customer care team
Value for money mobile app development services
Developing a digital governmental solution with a plenty of integrations.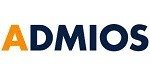 Adminos has distinguished itself and become the most recommended react JS development service provider in the world. The in-house team can manage complicated mobile app development problems with a positive approach. They build the perfect team that will alter your apps seamlessly.
Reason to Choose Admios :
End-to-end react.js development solutions
Transparent pricing policy
Crafting UI components for react apps
Key Clients: Admios has some renowned clients, including Race Hero, Yodlee, Mulesoft & many more.
Instinctools is a leading React JS Development Company.It is one of the best software providers in the world. Since its inception, Instictools has been delivering high-quality web development solutions to its clients.
Reason to Choose Intinctools:
They only focus on Cloud computing, Business intelligence & software development.
Creating reliable, scalable, and interactive single-page apps
A3logics is a great custom software development company, delivering fast and reliable web-based and mobile products. They have delivered thousands of projects over the last 18 years.
Reason to choose A3logics:
Team of credible react developers & IT professionals
Developed interactive single-page applications
97 percent client retention rate
Key Clients: A3logics has some popular clients, including, Tap N Chat, Firma Networks, Racetrack & many more.
Zymris a leading web development company that works on multiple frameworks, including react, angular, and libraries. Zymr is a full-stack cloud software development company based in California and offers the best react development solutions.
Reason to choose Zymr :
Flexible services for big as well as small companies
Built interactive and responsive single-page apps
Key Clients: The Company has a list of top-rated clients, including Splunk, CipherCloud, Talena, Digital Guardian& many more.
As the name itself reflects, Roweb Development is one of the most promising React JS development companies, founded in 2004 in Bucharest, Bucuresti.
They have over 10 years of experience in developing Mobile Apps that are interactive, responsive and customized.
Reason to choose:
Custom development solutions like business apps, mobile apps & e-commerce.
Expertise in developing React-based applications for mobile and web platforms.
IT specialists have years of experience in mobile app development.
Key Clients: They have some world-renowned clients, such as, Porsche Bank, Teilor, Digiconsul, CIM Bank& many more.
It is one of the most popular React JS development Companies located in 2007 in Slaskie. They have delivered quality services on more than 100 software development projects for their global clients.
Reason to choose:
Experience in developing React-based apps
A robust and quick customer care service
Customized mobile development solutions, etc.
Key Clients: They have some world-renowned clients, including, Forbes, Gizmodo, Techadvisor, & many more.
KMS Solution is the best React development company. Founded in 2011, the company offers the best mobile app development services at the best price.
Reason to Choose:
A full-grown react mobile app development company
Experienced react.js developers who create UI components for single-page apps.
Focus on delivering quality digital products as per client's requirements.
Conclusion
So, these are the 10 most reliable react development companies that can help you develop single-page applications by deploying UI components.