Most Reliable WordPress Plugins to Create Custom Login Page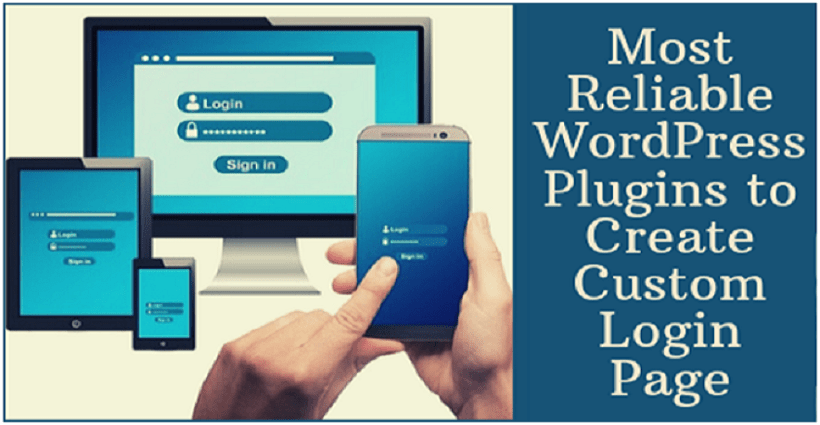 Are you aware of the login page? If yes! Do you want to customize and formalize your WordPress login page? Whom do you want to customize it? The WordPress plugins have the power to customize the login page as per your requirements and likings. Custom WordPress plugin development service can be chosen for increasing the customization capability and efficiency of your website  The popularity of WordPress is known to everyone, and it provides a high level of customization. The websites can be mold practically into the designs you want to have. And, when it is a matter of custom login page, then that can also be managed.
The login page is the place where you can enter your ID and password and can access the account. WordPress website experts, generally the one who accesses a membership-based website knows exactly that the default login page is unimpressive and dull. That can directly influence the website's user experience. The login page that reflects your branding will accelerate you to your success.  In this article, we have mentioned top WordPress plugins for creating a custom login page. The list contains free as well as paid WordPress plugins that can be used according to your budget.
Table of Content
Best Custom Login Plugins for WordPress
White label Branding

Tailored Login

WooCommerce Social Login

Secure pattern lock

Custom Login and Access WordPress Plugin

Admin Custom Login

Nextend

Hero Login Styler

Concluding Remarks
Best Custom Login Plugins for WordPress
White label Branding
It is a powerful plugin that looks after the complete branding of the login page. It has a style manager that permits you to develop advanced login templates with plenty of powerful options. White label branding will not provide you full control on the WordPress admin but it even customizes access to all the features. This theme has custom color schemes and login templates for WordPress admin. This plugin is more compatible with developers than that of usual web experts.  It comes with a wealth of branding options. With a single panel, you can tweak the header and footer logo, upload a favicon and can disable WordPress pointer, etc. It came with a price of $25.
Tailored Login
This is a premium login page plugin with themes. It is a part of the plugin suite with a price of $149. It has a style manager with which you can customize the text, login button, widget area of page and color schemes.  The integration of customization features is with a tailored login to develop a required login page for your website. The plugin can permit you to integrate a custom login form header and custom page background to provide a personal touch.
WooCommerce Social Login
This plugin is committed to e-commerce websites to permit the clients to log in and signup by using social media accounts. The registration process of WooCommerce can be sometimes heavy and cumbersome and become bored. It obviously will give a negative effect on sales.   The issue can be solved by one-click login or sign up option with the social profiles. It supports several social media networks, such as twitter, google + and facebook. Users can use Windows account, Paypal account, Amazon and VK to sign-in.  In addition, a dedicated social login report page is there to check how many users have signed up to which social profile. This statistic can also be checked in the pie chart statistics if the preference is given to visual representations.  Its regular pricing starts from $23 and can be extended up to $195.
Secure pattern lock
Secure pattern lock is a WordPress security plugin that allows using a smart pattern signature to customize the websites and is available at $24. This plugin provides security for your login page by SHA-256 encryption key being unique for WordPress. The secure pattern lock is fully responsive and is compatible with mobile devices as well. Security functions, such as, blacklisting and whitelisting of IPS, using your custom URL and customization of forgotten password box as per the preferences.
Custom Login and Access WordPress Plugin
This plugin helps in registering on the websites, by signing in or by the customizable login page and forms being safe with easy styling. With its feature of password settings, you can set the password while registration process, but other plugins demand passwords after re-login.  You can easily register or log in from different social networking websites, such as Instagram,   and Twitter, etc.  After the user logs in or log out, the redirection is automatically to the destination page. Its regular price is $20 and can be extended up to $100.
Admin Custom Login
It is powerful, easy to use and very popular custom login page plugin.  It permits the users to style and customize everything on the login page with the login form, background image, site logo, colors, etc. It has different professional features that permit you to use the login page as much as you can. Admin Custom Login includes social media log in, google ReCaptcha, log in with access, slide show animation effects and Interactive plugin dashboard.
Nextend
It is an active WordPress login plugin by which the users can easily log in to the website or the page. It provides the facility to login by social media accounts like Linkedin, Google +, Facebook and Twitter, etc. You can link or unlink the social media accounts on the WordPress profile page you have used to login to the website. This plugin provides the features of users' efficient translation for any problem oR purpose. It pricing differs for the different pack. It is free with an auto-update feature. For a single domain, it is of $25 with a one-time payment, 1 domain license, WooCommerce integration, etc. It gives 10 domain license with $100 with pro features and gives forever support.
Hero Login Styler
It is the user-friendly custom login plugin in the market that set-up professional looking login screen in some minutes only. It not only gives you the privilege to create a login screen of your own but also gives an option to use any of the five layouts. This custom login plugin in WordPress gives access to live customization. Editing with the full control to the background, uploading the option of your company logo and many other customization options that are inclined towards the login buttons and login forms can also be done.
Concluding Remarks
This article aims lies to show the best picks of WordPress plugins to create a custom WordPress login plugin. You can use these plugins and make the best out of it as per your requirements.  Hope you find this useful.  Please share your experience, queries, and feedback in the comment section below. And if you find this collection useful, please consider sharing it.