Importance of Magento 2 GDPR Extension in your Magento 2 Store
In this article, we want to put light on some of the important topics like GDPR Compliance, What is GDPR, the importance of Magento 2 GDPR Extension, GDPR role in the marketplace, why it is important for Magento 2 store owners, what are their benefits, etc.
We will discuss how this GDPR will affect the Magento 2 store owners. Only installing the GDPR extension may work for some of the small Magento 2 store owners but for larger stores with a huge number of products might need more to understand this. In this blog, we will look into the ways in which GDPR will mean changes for the store owners of Magento 2 while operating in and outside of the EU and also how to make sure that their Magento 2 store and the Magento 2 GDPR extension remain compliant.
Introduction 
GDPR – General Data Protection Regulation is nothing but a new EU regulation that is made purposely to improve the customer personal data protection for European citizens. Replacing the regulations implemented two decades ago. The deadline to make sure that your business is GDPR compliant was May 25, 2018. Regulations defined in this new GDPR states that how the companies need to control and manage the customer information within the EU. So any business having online European customers will be affected and they have to make the required changes to make sure that their store is GDPR compliant. Any online business will be affected by these regulations and it includes Ecommerce also. So all the Magento store owners who are providing services and goods to the EU consumers, also have to adapt to these changes accordingly.
Thankfully, Magento itself stated that all the Magento 2 store owners make sure that their store remains Magento 2 GDPR compliance, even if the store is not EU based. But that doesn't mean just add Magento 2 GDPR module to your store without being mindful of new rules. They must know the importance and how to protect and secure their store and customer's data. And if in case of any doubts they can even consult any Magento 2 Agency.
GDPR User's Privacy Rights 
The below-listed conditions cover a user's right to control whether they want to share with a company or not and what type of data they share. 
●      Consent — Any business or company must need clear consent before asking, collecting, storing or forwarding, or giving their data.
●      Documentation — It's mandatory for companies to keep detailed documentation about the data stored with them like where this data came from, what data is being held, the purpose of storing this data, and how it's being processed. There are many reasons you need to know what data you are holding as a business. One of the main reasons is that it is your responsibility as a business to handle personal data to do this safely, if you do not know what data you hold, you cannot keep it safe. Another reason it is important is that you may receive a Subject Access Request. If this happens, you need to be able to respond appropriately within the required time limit of 30 days. This will be very difficult to do if you do not know what data you hold.⠀
●      Access to Information — As stated above every user who provided their details and personal data has the right to request the documentation of their data held in a company's database. And the company has to provide the requested data to their customers and users within a 30-days period.
●      Data Erasure — Users who have provided their personal data have the right to request for deletion and remove their personal data from companies database. Once erasure is requested by the customer or a user, the company must comply and provide documentation that the data has been removed.
●      Data Changes — Sometimes data entered by users might be incorrect or old so users are allowed to request to correct, update or adjust the inaccurate stored information.
●      Objections — Data subjects have the rights to object regarding how their data is used. 
Why Do You Need Magento 2 GDPR? 
Why is GDPR compliant is a must? The answer to this question is very simple that if your store is not Magento 2 GDPR compliant then it can lead to huge fines of up to €20 million, or 4% of your prior year's worldwide annual revenue depending on whichever amount is greater out of these two. So it's very important to install Magento 2 GDPR plugin in your store and also pay attention to the changes taking place as a GDPR regulation and how it will affect your store.
Let us share with you "What are the risks to your business if it's not GDPR compliant?"
Disruption to your business⠀
Loss of income⠀
Cost of fighting claims and the legal fees⠀
Claims per customer⠀
Fines up to €20 million / 4% turnover⠀⠀
The ICO (Information Commissioner's Office) has the power to impose massive fines, regardless of the size of your business⠀
Additionally, the Accountability Principle within the GDPR requires that you take responsibility for what you do with data, and how you handle it. It requires that you are able to demonstrate compliance with the GDPR, and also that you have appropriate procedures and processes in place to protect the data you deal with. You need to put in place certain technical and organizational measures to ensure that you are meeting your accountability standards. Accountability obligations must be consistently reviewed and updated where necessary. 
How Extension Works
Every customer who buys online has a common expectation that their shared personal data must be secured and the store owners respect their rights. So to build customer's trust and to show efforts regarding customer's needs, store owners can make use of this Magento 2 Extension. It will help store owners to convert guest visitors to potential customers. Cookie Usage control ensures users about online privacy and also increases the customer's confidence level about the security of their personal data.
Additionally, store owners can even inform and clarify the users and customers about how the stored data has been used, processed while managing the privacy documents and consents properly. Admin can even customize the cookie policy bar including color, content, etc. Using this Magento 2 extension, customers can access, delete, update and change their personal data guaranteed by GDPR. 
Benefits of Magento 2 GDPR Extension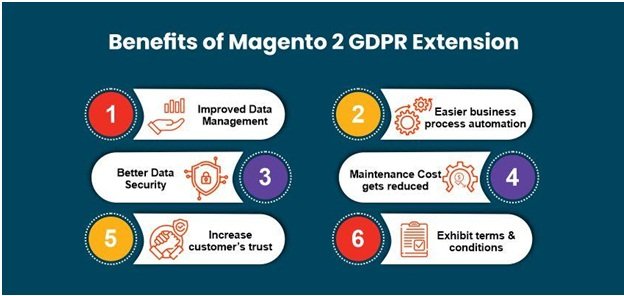 Let's have a look at why you need Magento 2 GDPR module and what are their benefits are:
Ensure that your Magento 2 store is GDPR compliant and avoid the penalties and fines of their violations
Helps you to increase customer's trust and loyalty by protecting and securing their data.
Admin can gather and manage the customer's data in an efficient way
Customers can access, add, update and delete personal data as required.
Customers can also anonymize their data and personal info while shopping if they feel insecure and anything fishy while providing their personal data.
Provide an option to retain order data
Exhibit terms & conditions and privacy policy
Unsubscribe newsletter option customers to unsubscribe and enjoy their freedom of not receiving updates.
Draft and display the cookie policy
Improved Data Management
Easier business process automation
A better understanding of collected data
Protected and enhanced enterprise and brand reputation
Better Data Security
Maintenance Cost gets reduced
Better alignment with evolving technology
Some of the other benefits are: 
Avoid claims and fines: Claims companies are actively advertising for people to make GDPR claims against all types of businesses⠀
Ensure business security: The ICO can impose substantial fines relative to the size of your business⠀
Look after customers and suppliers: You must ensure the security of personal data of the employees of all your customers and suppliers⠀
In addition, if you ever plan to sell your business, not being GDPR compliant can have a serious impact on its value. 
Key Features of GDPR for Magento 2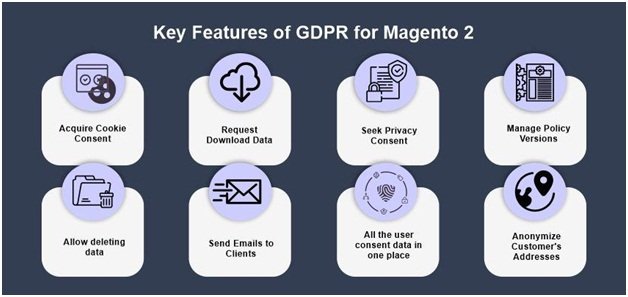 1.    Acquire Cookie Consent from Website Visitors 
Take a cookie consent using GDPR for Magento 2 and notify your customers when your website is about to use the cookies. You can request customers for a cookie policy by simply displaying the elegant cookie bar on your website. Admin can even display "Accept" or "Allow" buttons and have the following customization options:
Option to add cookie policy
Edit Header content
Cookie Bar Position
Colour of the Cookie Bar
Description
Customize Accept Button
Customize the color of the button and the background
By adding this feature to your website, your customer will be restricted to access the website without accepting the cookie policy.
2.    Request Download Data
Admin can enable an option for customers to request Data Download by extracting their personal data from the website. GDPR Magento 2 extension allows customers to export their account details and order details including saved addresses, account info, and order details.
3.    Seek Privacy Consent  
Using Magento 2 GDPR plugin admin can make it mandatory for customers to accept the privacy policy if they are seeking to contact, subscribe for a newsletter, or place an order. Admin can also customize the text of the privacy checkbox consent and also decide the look and feel of the same. Select whether the policy should be displayed in the frame, popup, or on a new page.
4.    Manage Policy Versions         
GDPR for Magento 2 allows admin to create any number of policies as per their business needs. All the created policies can be managed by the admin based on their versions.  And the interesting part is that the admin can name these version hierarchies as required. The latest created policy will remain active by default and will be prompted to your customers to accept it. 
5.    Allow Deleting Data 
Admin can enable an option for customers to delete their personal data from their website. Admin can add the "Forget Me" option for customers in their "My Account Section". Later the admin can approve the request from the backend admin panel and the customer data will be permanently removed.
6.    Send Emails to Clients 
Admin is allowed to send and receive emails on every request of customers for deleting their accounts, approval, or rejection. Additionally, all the email templates can be configured from the backend admin panel. 
7.    All the User Consent Data in One Place 
Every eCommerce store is obliged by GDPR law to keep track of all the activities regarding the user and customer data because the authorities have the right to ask for the customer data anytime. This Magento 2 plugin gathers all the data whether it's registered or new customers in one place.  So in any controversial situation, the admin can easily filter these consents and find the necessary ones to avoid fines and penalties.
8.    Anonymize Customer's Addresses
This Magento 2 extension allows customers to anonymize the shipping and billing information/addresses at the time of placing an order.
Top Seven Takeaways from the GDPR 
Data is important and there's a lot at stake: To study and analyze the legislation properly and hire an expert or any agency if required.
Communication is important: Always update your team and the partners so that the whole team will be updated and communicated properly.
Whether it is intentionally done or a mistake by anyone, it doesn't matter. Admin have to take ownership of data
Any errors or issues must be reported promptly
We all know customers' reviews make an impact so always listen to the feedback.
Clarity is mandatory so make sure it's easy on users
Legislation and technology will always evolve so try to improve constantly. 
Final Words 
We all know that data is a valuable currency, so it's the duty of every store owner to make sure that the data of their customers are secured and documented properly. Companies must value the customer's privacy and be transparent about how this data is processed to build deeper trust and retain more loyal customers. So admin can dedicate time to understand what they need to do in order to make their Magento 2 store GDPR compliant. Store Owners can even hire any Magento 2 developer for help so that they can ensure their store and business get GDPR complaints sooner, rather than later.
Author Bio
Mr. Dhiren Parmar is a digital marketing professional at MageAnts, a Magento development company that helps clients in Magento migration, upgradation, extension development etc. Dhiren loves to read about technology and digital marketing stuff in his free time.