10 Must Have Extensions for your Magento eCommerce Website
The success of an E-shop depends on how creative and flexible it is. Magento is one of the most reliable eCommerce platform used by almost all leading brands and companies. Although, it comes with lots of robust characteristics that help you to develop a user-friendly e-store and become a big name in E-commerce business. But, when your E- business makes rapid progress, the basic setup of your site doesn't offer all the required features to address the certain aspects of your booming business. Soon, you feel an urgent need to add a few features to your site so that your users may get the best shopping experience and may return to your site (as a customer) many times. You can use Magento extensions to serve that objective easily. Actually, Magento extensions are a collection of extensions that may add additional functionalities to your e-Commerce website. Just check out top 10 Magento Extensions (highlighted here below) that can help you manage your E-shop beautifully:
1. ShipWorks
Availability: Magento Marketplace
Cost: Free
If you are in E-business, you might be aware of shopping cart abandonment. These days, Online shopping carts are abandoned at an alarming rate, which gives e-shop owners several sleepless nights. It happens because of several reasons.
If you want to make rapid development in E- business and reap the utmost profits, then you need to improve the shipping of your commodities. Just make use of ShipWorks. This awesome Magento extension will facilitate you a lot in label creation, updating orders, sending emails to customers, etc.
2. Bronto
Availability: Magento Marketplace
Cost: Free
Bronto helps you a lot in generating revenue with cross-channel marketing campaigns and targeted emails. When you send messages to your customers based on their past purchasing habits, you market your products and services effectively. Always analyze average order value, last order total and total revenue, etc, of all your customers and send them newsletters, automated reminders for abandoned carts, wishlists, new products for generating orders from them. Bronto helps you execute all these things properly and you have a sharp increase in click through rate, open rate and delivery rate.
3. Blog
Availability: Magento Marketplace
Cost: Free
When you have an eCommerce website, you need to use different blogging platforms to make announcement about new products and services, promotional activities, write relevant contents about your company's business, etc. This helps you to grab the attention of visitors and boost your site's traffic and leads. Just try Blog as it acts as a regular blogging platform that contains RSS, excerpt fields and native WYSIWYG editor.
4. Address Label Printing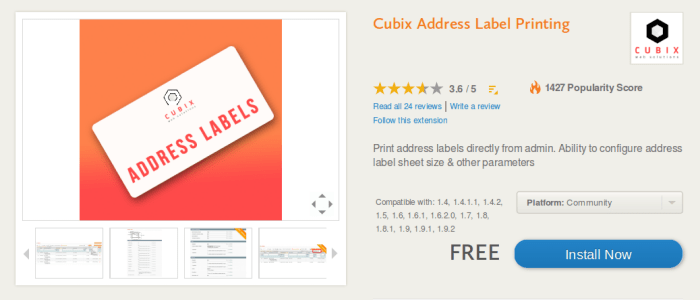 Availability: Magento Marketplace
Cost: Free
By using this extension, you can easily print address labels on a package before sending it out for delivery. This extension allows you to print the label directly from the admin panel and you can decide the label size, layout, and pieces of information to be included in the label.
5. WordPress Integration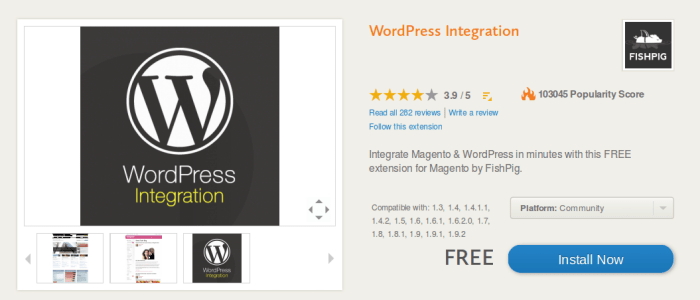 Availability: Magento Marketplace
Cost: Free
Magento WordPress Integration will help you to incorporate your Magento store with your WordPress site. You can switch to the WordPress dashboard from Magento's admin panel in just one click and can start blogging easily. This extension also supports a number of WordPress plugin integrations. With the help of this extension, you can easily make use of these two platforms.
6. Latest Product Reviews Plus
Availability: Magento Marketplace
Cost: Free
Customer reviews, feedbacks and ratings of products influence purchasing decisions of customers greatly. It helps you to win the trust of your customers and motivate your potential customers to buy your products and services. Latest Product Reviews Plus helps your customers to see all product reviews on your e-shop easily. This extension also allows customers to look recent reviews on the sidebar. They can also select the number of reviews to be displayed per page. With the help of this extension, admins can display the most recent reviews on either the left or right sidebar. Additionally, this extension supports three view types: list, slider and scroll, that makes your e-store more user-friendly and appealing.
7. FAQ
Availability: Magento Marketplace
Cost: Free
FAQ extension is important for all types of e-businesses. It helps e-retailers to make the web shopping experience happier and easier. With the help of this extension, you can make a list of question and answer and can solve customer's queries easily and quickly by offering the most relevant FAQs.
8. Product Matrix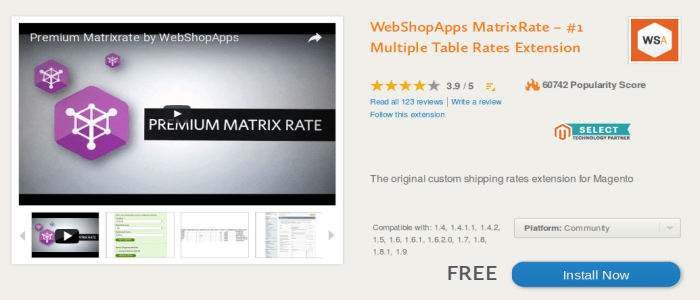 Availability: Magento Marketplace
Cost: Free
Product Matrix is an amazing Magento extension which allows you to provide several shipping alternatives to customers based on their locations. With the help of this extension, you can easily determine shipping rates as per location, shipping method and the weight, price or quantity of an item.
9. One Page Checkout
Availability: Magento Marketplace
Cost: Free
With the help of this extension, you can turn your previous 4-6 checkout process into one simple page for your customers. When you make checkouts swift, it rapidly increases the number of completed carts, reducing the number of your cart abandonment and the money you spend to bring abandoned carts back. This extension supports several languages and paypal integration. It helps you to reach out a large number of online shoppers (who use their native languages while shopping, not English). Paypal integration facilitates you to take payments from your customers easily.
10. LiveAgent
Availability: Magento Marketplace
Cost: Free
When online shoppers visit e-stores, many times they need a live person to answer their questions related to particular products and services. Approx 44% of the online customers say that answering questions during shopping is one of the most significant features a website can provide. Just use LiveAgent – a powerful "all-in-one" customer support software and increase conversions easily by engaging with your website visitors and solving their concerns.
Final Thoughts
Driving traffic to your E-shop and increasing conversion rate matters for an eCommerce website. All online shoppers that visit your site, don't make transactions. You can integrate these useful extensions to your online shopping store and can observe a sharp improvement in visibility, traffic, ROI and functionalities.