DesignEvo Review: A Free and Dead-Easy Online Logo Maker
If you are running a business, you'll know how important a good logo is. A good logo is not only a symbol but also can speak for your brand and bring clients for you. It is quite normal to hire a designer to customize a unique logo for your company, but many people can not afford it. Thus, DesignEvo is created.
DesignEvo is a free online logo maker that allows average person to create logos with a professional looking easily. It has prepared everything for your, and the only thing you need to do is search and select.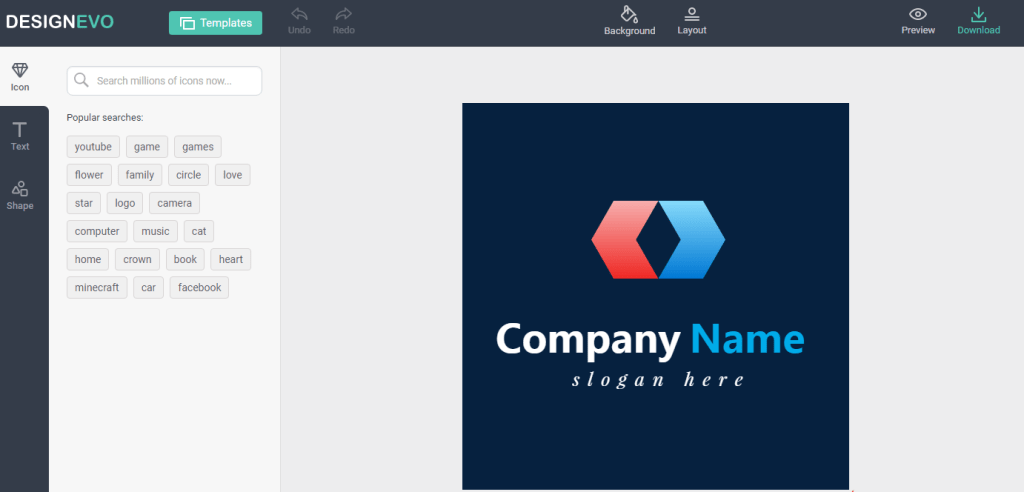 How to make a logo in three steps?
1. Choose From 3,000+ Templates
DesignEvo has designed many kinds of logo templates for you to simplify your design process. If you have no idea to make a logo, then choose from these well-designed templates. There are letter logos, fashion & beauty logos, abstract logos gaming logos and so on. All of them can be customized freely and every element of them can be adjusted.
2. Personalize your Logo With Millions of Icons and Fonts
Do you like a unique logo for your business? After finding a preferred logo template, you can search from millions of icons and customize the template you like. Color, size, position, background, effect, etc., all of them can be adjusted freely. Besides, there are many kinds of shapes and stylish fonts to personalize your logo.
3. Check the Logo With Preview Feature and Download It
After finishing the logo, the next thing is to check if your logo is suitable for your goal. With the preview feature, you'll see the logo on several occasions: the logo on a book cover, on paper, on a T-shirt and so on. Once you find it is not fit for your need, you can adjust it accordingly. When everything is done, then choose to download it for free. The output covers three types: jpg, png, and png with transparent background. Feel free to choose the one you need.
See how it works at
Conclusion
DesignEvo is totally free and user-friendly. It is born to help vast small businesses, startups and independent professionals. Don't worry if you know nothing about design because it has no professional skills requirement at all.
Come to have a try! It will surprise you!