Why Backlink Generation is an Essential SEO Activity?
Have you found yourself in a situation where your competitor with less content and a limited quantity of backlinks beats you in a search engine ranking? Well. Then you are in the right place to find the reasons behind it and how to remedy it. We will discover why backlinks are important and how it is an essential activity for your website's search engine optimization. Before jumping right into the whys and the hows of backlinks, let's understand what backlinks are.
What are backlinks?
Backlinks are links that connect or link a particular site to another site. Let me put these in simpler words. Backlinks are inbound links that direct users from one website to a different one. Since page ranking focuses on E-A-T (Expertise, Authoritativeness, and Trustworthiness), backlinks play a pivotal role in building a website's reputation.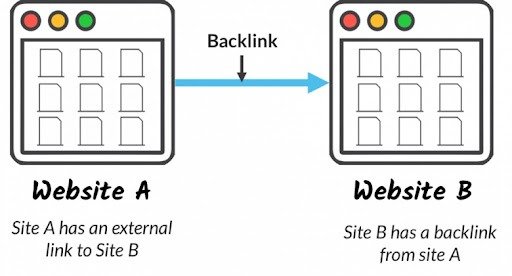 Backlinks are like votes that help search engines determine whether that site's content is valuable, worthwhile, and legitimate. It enables Google crawlers to easily find and index your website. And Google and other search engines will rank your site higher if you have more of these "votes." 
Why backlinks are crucial for Search Engine Optimization?
SEO and Backlinks work hand-in-hand. You know now that Google and other search engines determine the Pagerank by considering backlinks as votes for genuine content sources. These links help search engines to find new pages and crawl them. The result is a faster indexing process that leads to a higher ranking in a shorter time.
A tool for maintaining a favorable reputation
Simply put, backlinks work like signals to search engines that other noteworthy websites certify the quality of your content. When there are many links to the same webpage or website, search engines are able to determine whether the content is worth linking to and worthy of being surfaced in search results. These links help to develop trust and gain reputation. So, the ranking or search visibility of a site can be boosted by earning these backlinks. 
Boosts websites' traffic
With highly relevant content, Google continues to provide the top search results that satisfy users' search intent. Search engines trust the website with authoritative and niche content. So those websites with lots of traffic have a higher search ranking, and when you give your link to your website to those websites, you get a significant boost in traffic as well. It is ideal to choose digital marketing services, so you can utilize other methods to obtain desired conversions from your site.
Are all backlinks valuable?
Do you want backlinks from Forbes, New York Times, or some random website? Google's algorithms function similarly. The domain authority plays a role here to decide the 'value' of the backlink. The Domain Authority (DA) term is coined by Moz. It is a search engine ranking score that determines where a website will appear on search engine results pages (SERPs). The Domain Authority of a website is a measure of how well it performs in search engine results. A site with more authority can pass more authority to your site (through the link). Domain Rating (DR) is a term coined by Ahrefs and represents the strength of a website's backlink profile. On a logarithmic scale, DR ranges from 0 to 100.
The higher your DR, the stronger the website's backlink profile. In other words, the quality of backlinks, not the number of them, is what contributes to your site's SEO. 
What factors influence the quality of backlinks?
First, you need to have an idea of the types of backlinks.
There are two types of backlinks.
Dofollow link: These links produce positive results on SERP. Incorporating dofollow links on your site enables search engines to view what other sites, blogs, and posts link to you, which strengthens your authority. 
Nofollow link: You can insert these links without them pointing back to you. Neither do they boost PageRank or improve SERP placement.
The difference between do-follow and no-follow links is that do-follow links pass credibility or 'link juice to your website, whereas no-follow links do not pass credibility. So, from an SEO point of view, no-follow links do not have significance, yet they can help to boost traffic. Make sure your website has a sufficient number of both types of backlinks.
Content relevancy
Google detects irrelevant backlinks. It aims to deliver accurate results to users. For example, if a luxury handbag company links to a sportswear company, it is unlikely that the backlink will pass as much link juice as one coming from the sporting goods site. 
Anchor text
Typically underlined and uniquely colored, anchor text indicates a hyperlink within the content. The relationship between content and relevance between the sites is defined by it. Anchor text should contain keywords and be specific, relevant, and appropriate to give a backlink maximum value. 
Number of links
Links listed among the dozens or hundreds of links on a single page are unlikely to be as valuable as those listed among fewer. In other words, you should not have 100 links on the same page or website. Instead, opt for 100 links to 100 different web pages.
Link Placement
Make sure your website visitors can see the link you place. Your website reputation and ranking may suffer if you place links in your footer or sidebar.
How to earn high-quality backlinks?
Earning backlinks requires time and effort. Below are the ways you can practice gaining high-quality backlinks.
Competitor backlink analysis
The most effective way is to see where your competitors are gaining backlinks and how reputable they are. Remember that not all links need to be duplicated. Choose high-authority sites. Creating backlinks for your website might be worthwhile if you can reach the link giver through them. Observe the social media mentions, forums, and website mentions of your competitors. 
Guest blogging
In guest blogging, you ask someone outside your company and write a blog on their website. As a result, you can reach out to new clients and interact with people engaged in your industry. Usage of the right keywords and links can boost niche traffic to the site and help to build brand's authority. In this way, search engines can determine if it is relevant to the overall content and pass the link juice. Other organic methods include writing detailed and precise guides and promoting your content on various social media platforms.
In a nutshell
By now, you have gotten a clear picture of why backlinks matter in terms of SEO and their purpose. Content is inextricably linked with every SEO strategy including link building. It is possible to get backlinks from credible sources if your content provides relevant information and helps resolve issues. Google's algorithm for evaluating links has evolved in recent years, now focusing on quality links rather than quantity. So it may have become challenging to earn links from higher domain authorities for your SEO tactics. But when you start working on a link-building strategy to boost search visibility by using external links as part of your SEO activity, it can work wonders.
Author's bio

Suvarna Parikh is a Tech content writer at ultroNeous Technologies. She contributes articles on various topics and balances the informative content with an engaging read. (Hooks are always there.) When she is not writing and editing, you can find her reading or watching thriller dramas.