Best Free Way to Migrate Google Drive to G Suite (Google Workspace)
About Google Drive And G Suite (Google Workspace)
Google Drive is a cloud storage and file sync service provided by Google, which allows you to store documents, photos, videos, and other files in the cloud via multiple devices. There are a large number of users in Google Drive, especially individuals.
However, Google offers another service Google Workspace (formerly G Suite), which is provided for Businesses to improve the efficiency of productivity and collaborations so that it includes services, such as Gmail, Google Drive, Google Docs, Sheets, Slides, and Forms, Google Meet, Google Calendar, Chat, and Sites, etc.
Why migrate Google Drive to Google Workspace (G Suite)?
So there are some reasons why you migrate Google Drive to Google Workspace:
Enhanced Collaboration: Google Workspace provides a suite of productivity tools like Google Docs, Sheets, Slides, and Forms, which seamlessly integrate with Google Drive.
Increased Storage and File Sharing Capabilities: Google Workspace offers expanded storage options compared to the free version of Google Drive.
Professional Email and Communication: Google Workspace includes professional email hosting through Gmail. Migrating to Google Workspace allows users to have custom email addresses using their domain name, enhancing their professional image.
Streamlined Workflows and Integration: Migrating to Google Workspace ensures a more streamlined workflow as users can access and work on their files directly within Google Workspace apps.
Best Free Tool to Migrate Google Drive to G Suite – MultCloud
As for migrating Google Drive to G Suite, you have to use the best free cloud file manager – MultCloud. Why? Because you can get the following benefits with MultCloud:
MultCloud allows you to migrate files between clouds in flexible ways, like cloud transfer, cloud to cloud sync, cloud backup, and more.
Supports almost all cloud drives in the market, including Google Drive, Google Workspace (G Suite), Dropbox, OneDrive, Dropbox for Business, OneDrive for Business, Box, Box for Business, Amazon, iCloud Drive, iCloud Photos, Gmail, Google Photos, and many more.
Use flexible features while migrating Google Drive to G Suite easily, such as scheduling, enabling email, filter, and transfer methods.
Share files between Google Drive and Google Workspace with password protection.
Use 256-bit AES encryption and an OAuth authorization system to protect your data safely.
Offline execution even if you turn off the computer or the web browser because it's performed on the MultCloud servers.
Team Transfer is available for you if you're going to migrate files between business accounts, which is very useful to migrate accounts in bulk to other cloud services.
So, how to migrate Google Drive to Google Workspace with MultCloud?
Simple Steps to Migrate Google Drive to G Suite with MultCloud
To make it clear how to migrate Google Drive to G Suite, we will demonstrate the steps here:
Please apply for a free MultCloud account, and then log in.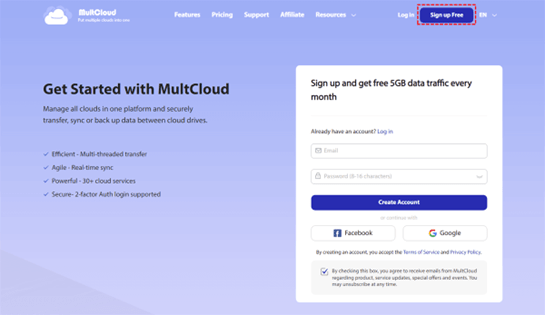 Click Add Cloud > Google Drive, then follow the guide to add. Then add Google Workspace.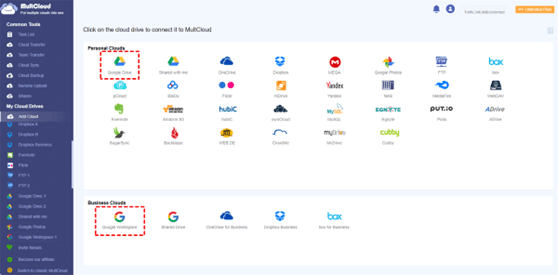 Tap Cloud Transfer on the left side, then choose Google Drive as the source, and Google Workspace as the destination.
Hit the Transfer Now button to transfer Google Drive to G Suite directly.
Tips: Before migrating, you can set up the useful features in Options and Schedule to make it easier.
You can enable the Options to set up the transfer method, email notification, filter, etc.
Enable Schedule to automatically transfer Google Drive to Google Workspace if you're planning to generate the changes from the source Google Drive.
Now, check all the files in Google Workspace after the migration, and make everything is set by your purpose.
The Epilogue
As you know, there is no direct way to migrate Google Drive to G Suite. MultCloud can be your best choice to move files from Google Drive to Google Workspace because it's not only for individuals but also for businesses to manage files online and collaborations. Moreover, you're able to manage Gmail, and Google Photos as well, which makes you to easily manage Google Drive storage if you hit the Google Drive storage limit.
Besides, you can manage everything from all clouds in one place without switching accounts frequently. To keep files online, you can upload files to Google Drive, Dropbox, OneDrive or other clouds that you're currently using.