How to Migrate Dropbox to OneDrive – MultCloud
It's a great way to store data, make backups, and have the data at your disposal wherever and whenever you are. Dropbox and Microsoft OneDrive are the leading services for storing files online. They share some similarities in online file-sharing and storage. Both clouds are evenly matched in terms of online collaboration and device synchronization. However, OneDrive has more enterprise-level features, such as integration with Microsoft Office 365 apps and SharePoint.
Can You Migrate Dropbox to OneDrive?
OneDrive and Dropbox all offer free and paid plans for individuals and businesses to satisfy users' requirements. Dropbox offers 2 GB of free storage for storing files online. On the other hand, OneDrive offers 5 GB of free storage. If you are a Dropbox user whichreachestheDropbox storage limit, you can create a Microsoft account to use OneDrive instead. The first problem is how to transfer files from Dropbox to OneDrive without complicated and time-wasted downloading or uploading. Well, this guide will give you the best answer to migrate all your files from Dropbox to OneDrive.
Best Way to Migrate Dropbox to OneDrive – MultCloud
The traditional method of Dropbox to OneDrive migration is to download files from Dropbox and then upload them to OneDrive through your local store. This common way is achievable if you only need to migrate a few files between clouds. Otherwise, it will cost you so much time and energy to wait for the process to be done. What's more, the storage of your local device may be crowded during the migration.
Instead, you can use a reliable cloud-to-cloud file transfer service, MultCloud, to efficiently migrate documents, photos, videos, music, or other files from Dropbox to OneDrive with a single click. MultCloud is a professional cloud file manager that offers a secure website and easy-to-use mobile apps for iOS and Android. These platforms can help you easily transfer data across clouds without any risk of data loss.
Fast & Secure File Transfer
MultCloud uses up to 10 fast threads to seamlessly transfer your data across clouds without relying on your Internet. And your transfer process will be full-time protected by the 256-bit AES encryption for SSL.
Flexible and Automatic Task Schedules
MultCloud offers daily, weekly, and monthly plans for you to set up automatic cloud-to-cloud transfer tasks. These tasks can be performed offline without you turning on your device.
Wide Support of Popular Clouds
As one of the best cloud data transfer services, MultCloud now supports more than 30 frequently-used cloud storage services and on-premise services, including Dropbox, Dropbox Business, OneDrive, OneDrive for Business, SharePoint Online, Google Drive, Google Workspace, pCloud, Amazon S3, Wasabi, NAS, FTP, etc. And MultCloud uses the OAuth authorization system to link your clouds without any possibility to record the username or password.
Free and Cheap Price of Subscription
Every month, you will get 5 GB of free data traffic for transferring data across clouds. If that's not enough, MultCloud also offers paid plans from $9.99/month for 100 GB data traffic to $249/lifetime for unlimited data traffic.
How to Migrate Dropbox to OneDrive via MultCloud
Step 1. Go to the MultCloud web or install the MultCloud app on your mobile device to create an account.
Step 2. Click the button "Add Cloud" and choose the icon of Dropbox or Dropbox Business. Then log in with your Dropbox account to add it to MultCloud. You can add your OneDrive, OneDrive for Business, or SharePoint Online in the same way.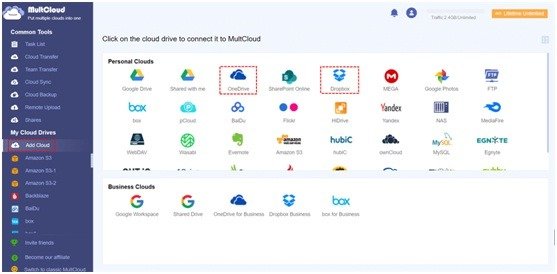 Step 3. Open the Cloud Transfer function, select data in Dropbox as the source, and select a location in OneDrive as the destination. Then click the button "Transfer Now" and the selected data will be migrated from Dropbox to OneDrive as soon as possible.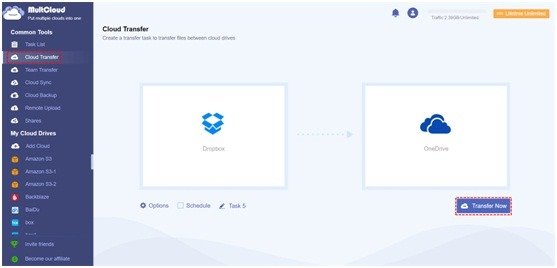 Conclusion
Both OneDrive and Dropbox are great for you to store your data online and sharing your data with others securely. But if you need to migrate Dropbox to OneDrive, you can try the Cloud Transfer function of MultCloud to get the best, safest, and fastest data transfer experience.
Besides, MultCloud also supports cloud-to-cloud sync. It offers 10 perfect cloud sync modes in one-way, two-way, or real-time. You can make full use of this method to link your Dropbox and OneDrive, and thus use them together conveniently.